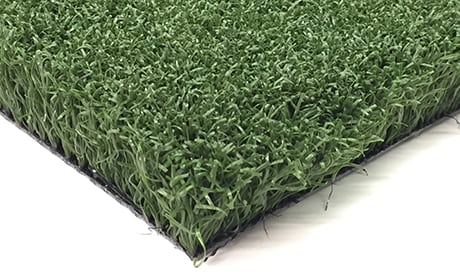 Golf Driving T-Line 120 Turf - 12' Wide
Artificial Turf Description
Athletic Textiles Nylon T-Line 120 is part of full line of nylon putting green sports turfs for golf applications.
The 120 ounce nylon driving T-Line turf is designed to replace outdoor T-line grass for reduce maintenance and a clean fresh look. The artificial T-Line Turf accepts real golf tees for real practice conditions off of the T-Line.
The T-line 120 is a monofilament nylon sports turf designed for excellent resistance to traffic patterns, abrasion, and multiple sport applications. 
It can also be used for extreme military fitness, anchor chain drags, and high abrasion activities.


Buy online, Request a Quote, or call to place your order with a sales person
Synthetic Turf is priced by the square foot
Turf Rolls are 12' in width and cut to incrementally in length to the nearest foot
Minimum Order: 20' length (Shorter orders will not be accepted without calling in for authorization)
T-Line 120 golf T-Line turf is a DIY self install item over concrete with full glue down is best choice or crushed fine compacted aggregate (gravel) with nailer board/staples.

Installation options
Full glue down
Seam only glue down
Seam only glue/seam tape
The T-Line 120 golf turf is one of our most popular items and is produced weekly. 
Small orders of 600-2000 sq. ft. will typically ship within 7-9 days
Please allow 3 weeks for delivery of larger orders.